WE LOVE IT HERE, YOU WILL TOO!
We would like to welcome you to our Enchanted Cottages.
Nathan & Kimberly's Story
After years of Nathan living and working as an Electrician, we decided to make a big change in our lives and start a hospitality business! It's been a dream of ours with a goal of creating more time at home to be with the family and children.  It is a goal we know we can reach someday.
The Enchanted Cottages are adorable and cozy vacation rentals and are just a short walk to the ocean. We fell in love with the Enchanted Cottages the minute we laid eyes on them!  The very first time (and every time after) we ever walked by the Enchanted Cottages on our way to North Jetty Brewery I told her, "One day we will own this place!".
Three years later my bold statement came true.  On the first night at the Enchanted Cottages, we walked outside. The street in front of our new adventure was quiet. Although we could not see the ocean, we could hear the surf – a heavenly sound!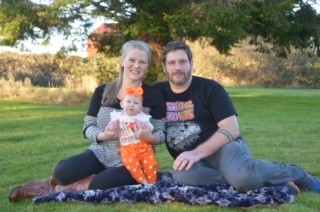 We hope you will come to stay at our little cottages soon and enjoy the serene gardens and fountains, the comfortable, cozy accommodations, and all the wonderful things the Long Beach Peninsula has to offer: the beautiful Pacific Ocean and beaches, the many lakes, the Columbia River, the charming downtown area of Long Beach and its oceanfront boardwalk, the 8-mile paved Discovery Trail through the dunes, great restaurants, lighthouses, outdoors activities such as clam digging, crabbing, fishing, bicycling, hiking, beachcombing…there is no end to the adventures awaiting you!
Nathan & Kimberly